Braised Seafood Trio Over Chinese Noodles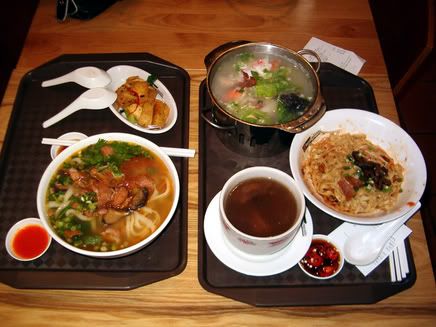 Preparation Time: 10 minutes
Marinade Time: 10 minutes
Cooking Time: 20 minutes
Serves: 4
Ingredients:
2 tsps. cornstarch
2 Tbsps. dry sherry or Chinese rice wine
1/4 tsp. ground white pepper
8 uncooked medium shrimp, shelled and deveined
4 sea scallops, butterflied
1/4 lb. firm white fish fillets, such as halibut or cod, cut into 4 pieces
1/3 cup low sodium chicken broth
1/2 tsp. sesame oil
1/4 tsp. salt
1 lb. flat Chinese egg noodles
3 baby bok choy, halved lengthwise through the core
2 Tbsps. vegetable oil
1/4 cup thinly sliced carrots
1/4 cup straw mushrooms, drained
Preparation:
1. Stir the cornstarch, rice wine, and pepper together in a medium bowl until the cornstarch is dissolved. Add the scallops, shrimp and fish and stir gently to coat. Let stand 10 minutes.
2. Prepare the sauce: Stir the chicken broth, rice wine, sesame oil, salt and pepper together in a separate bowl until the salt is dissolved. Set aside.
3. Heat a large pot of salted water to boiling. Cook the bok choy until tender-crisp, 2 to 3 minutes. Scoop them out with a large wire skimmer and set them aside.
4. Cook the noodles according to the package instructions in the same pot of water. Drain well. Divide the noodles between four large soup bowls. Arrange the bok choy around the noodles and cover the bowl with aluminum foil to keep warm.
5. Heat a wok over high heat until hot. Add the oil and swirl to coat the sides. Add the seafood and carrots, stir-fry until the shrimp turn pink, about 3 minutes. Add the mushrooms and sauce; and toss until well mixed. Bring to a boil. Divide the seafood, sauce and vegetables evenly between the four bowls.