Won Ton Soup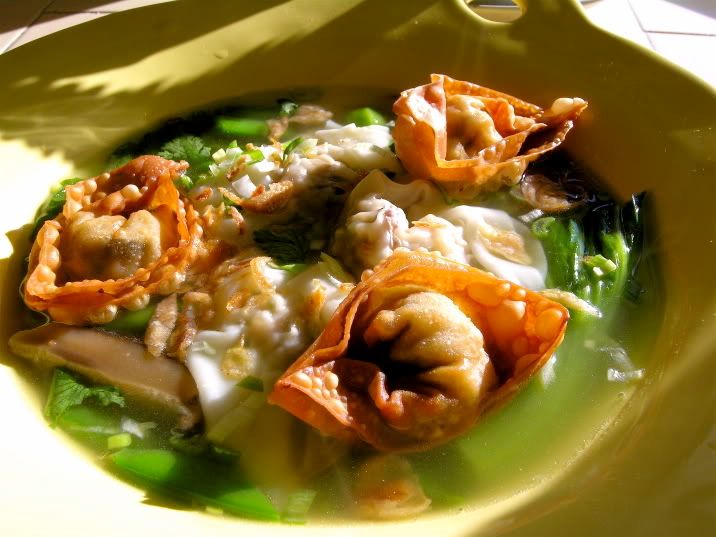 Serves 8
Ingredients:
1/2 cup finely diced shitake or straw mushrooms (plus 3/4 cup whole, reserved)
4 Tbs diced onion
1 tsp minced garlic
1 beaten egg
1 Tbs soy sauce
3/4 lb roasted, shredded pork (reserve 3-6 Tbs)
1 4.5-oz can diced shrimp
1/8 tsp commercially prepared fish sauce *
6 cups water
25-30 won ton wrappers
8 cups chicken stock
1/2 cup sliced water chestnuts
1/4 cup bamboo shoots
8-10 snow pea pods, cut in half and strings removed
1/4 lb fresh jumbo shrimp, peeled, de-veined, and halved
1 cup shredded spinach leaves
3 sliced green onions
Preparation:
Combine first 8 ingredients, mixing well. Spoon 1 teaspoon of mixture onto each won ton wrapper, placing somewhat off to one side so wrapper will fold well. With the palm of your hand, make 1 roll-over towards the opposite point, tucking the rolling point under the filling for weight. Moisten one of the side points with a small amount of water. Bring right and left side points together, overlapping and pressing to seal.
Bring water to boil. Add won tons gently, one by one. Cook, uncovered, for 3-4 minutes. Remove won tons with a slotted spoon, transferring to a pan of cold water for a few minutes. Drain.
Heat chicken stock to boiling. Add reserved mushrooms and pork, shrimp, water chestnuts, bamboo shoots, and snow peas. Simmer for 5 minutes. Ladle soup into bowls; add spinach and green onions. Serve with flat, wide, restaurant-style chow mein noodles.
* This can be found in the Oriental section of most grocery stores, or can be purchased at an Oriental market.
Find more delicious recipes in:
500+ Healthy Chinese Recipes Cookbook